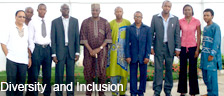 As a multilocational organisation we are committed to a culture of diversity which is reflected in the large and varied workforce we have across the globe.
Employment decisions at Strides are based on merit, qualifications and abilities. We employ people without regard to gender, race, colour, nationality, sexual preference, marital status, age, disability, religion or employment status.
The value of this diversity is a rich and unique blend of minds and cultures that makes working at Strides more compelling and exciting.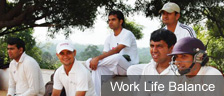 We recognize that the environment of today puts a lot of demands on individuals as they seek to maintain a balance between their work and other responsibilities and aspirations.
Our HR policies are designed to provide flexibility and help employees lead a more fulfilled life. Flexi time options, state of art gyms, a cricket club, runners club and artists group are just some of the facilities available to all Stridians.

"We Care" is a programme exclusively developed to address the wellness and health needs of employees through talks and presentations held by doctors at our facilities. Employees also have an opportunity to fulfill their social obligations through Parivarthan, a Strides CSR initiative that engages employees in health, education and community initiatives.
Our Reward & Recognition policies are designed to create a motivating and fulfilling work environment for employees as they build their careers at Strides.